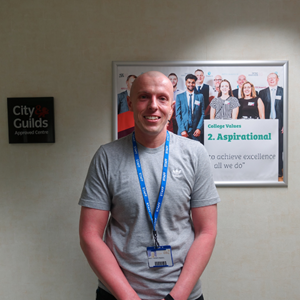 Andrew Trudgill
Timber, Carpentry & Joinery Lecturer
Andrew is one our our Carpentry & Joinery lecturers and has worked with us since March. His main role involves teaching theory and practical aspects of Carpentry and Joinery to both apprentices and full-time students, helping us build the future of carpenters and joiners.
We asked Andrew a variety of questions about his role and why he's enjoyed his time at LCB so far.
Why did you join LCB?
Leeds College of Building is the only College in the UK who's sole purpose is to serve the construction industry and becoming a tutor was something I had wanted to do for a long time so it made sense for me to apply when the opportunity became available.
What's your background?
I started out as a joinery apprentice in 2007 and upon completion of my apprenticeship I returned to college for a further 2 years to achieve my HNC in Construction and the Built Environment. I worked for the same company for the majority of my career and worked my way up from an apprentice joiner to become Maintenance Project Manager where I was responsible for managing a team of tradesmen and sub-contractors, carrying out both property maintenance and refurbishments to properties in private rental sector across the Bradford district.
What experience or qualifications do you have that help you in your role?
I have over 13 years' experience in the industry and have undertaken and overseen works both out on site and in a workshop environment from start to job completion. I have my Advanced Joinery Apprenticeship and HNC in Construction and the Built Environment.
If you joined Leeds College of Building from another sector or industry, why did you decide to move into education?
Since completing my apprenticeship, I had always said that one day I would like to go back to college to become a tutor and pass on the skills and knowledge I have learned over the years on to future generations of joiners.
What is/are the most rewarding aspect/s of your job?
Seeing students' skills and understanding develop, and seeing students produce good quality work that they themselves are proud of.
What's your view of the working environment and facilities at Leeds College of Building?
The working environment is great. Yes its completely different to being a tradesman out on site, but everyone is great and you'll feel like you've been here ages in no time at all.
What advice would you give to anyone considering working at Leeds College of Building?
Go for it!