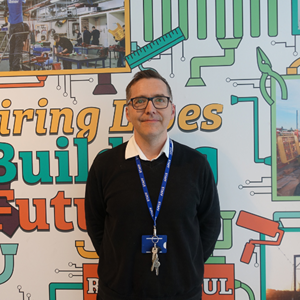 Brian Waters
Electrical Lecturer
Brian is one of our Electrical Lecturers and has worked with us for 1 year. His main responsibilities include teaching students 16 to 60, both level 2 and level 3. This includes classroom sessions and workshops, covering topics including containment and wiring.
Why did you join LCB?
I had a car accident which has limited me physically. Also, I couldn't drive the 600-800 miles a week that I had been doing. This made me reassess my employment options. I hadn't planned to be a teacher but Leeds of College of Building is ten minutes from my home. I saw a job as a facilitator, got that and then covered some lessons due to Covid and teacher absences. I loved it so decided to swap!
What's your background?
Installation Electrician commercial and industrial. I've worked on projects like The Shard in London. I helped build Meadowhall shopping centre. I've also worked on an oil rig and in a power station – and lots of maintenance in pubs. I was self-employed and so I worked all over the country.
What experience or qualifications do you have that help you in your role?
I'm a fully qualified electrician with an NVQ in electrical installation. I'm currently studying for a level 5 C-TEC in teaching.
What is/are the most rewarding aspect/s of your job?
The most rewarding aspect of my jobs is seeing the students learn. I get really great satisfaction when the light bulb flicks on in their heads and they say: "Ahhh! I get it now!" It's a brilliant moment because I know I've made a difference.
What's your view of the working environment and facilities at Leeds College of Building?
Good facilities, the workshop area is well-equipped so it's a good place to teach and learn. All of my colleagues are very friendly and supportive and I've been encouraged to get my teaching qualifications and I get time during the week to study.
What advice would you give to anyone considering working at Leeds College of Building?
It is rewarding. Try it! I didn't know I'd like it until I got here. It's been a good move for me. To be honest, the money I'm earning now isn't what it was when I worked for myself, but this is the right role for me right now. I'm constantly learning and it's always interesting.
View our available vacancies here.