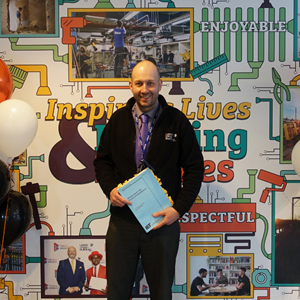 Ed Hodgson
Curriculum Manager
Ed is the Curriculum Manager for our Electrical department, joining us 15 years ago because it's the only specialist construction college in the industry so offers the best resources. His main role involves planning delivery of all electrical courses and managing staff.
What's your background?
Installation electrician working on commercial and industrial sites.
What experience of qualifications do you have that help you in your role?
236 part 1 & 2, Assessor award, Level 5 teaching qualification
If you joined Leeds College of Building from another sector or industry, why did you decide to move into education?
As a journeyman electrician I was working away from home a lot which was fine when you're younger but when you start a family it's very difficult to manage. It's also nice to spend most of the school holidays with your kids.
What is/are the most rewarding aspect/s of your job?
When you can see your students start to understand and thinking for themselves.
What's your view of the working environment and facilities at Leeds College of Building?
They are the best in the country.
What advice would you give to anyone considering working at Leeds College of Building?
Come in and give it a go before you start. You don't know if it's for you until you stand up and talk in front of a group.
You can view our latest vacancies here.