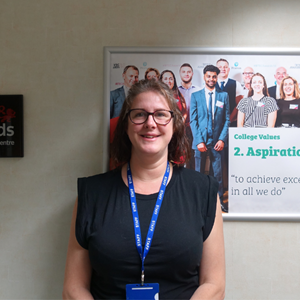 Sarah Sweeney
Finance Clerk
Sarah is one of our Finance Clerks and has worked with us for over four years. Her main responsibilities involve dealing with invoices, payments, and student enquiries around Government funded courses. She helps students set up affordable payment plans, and progresses apprenticeship queries and associated price adjustments.
We asked Sarah a variety of questions about her role and why she finds LCB such a fantastic place to work.
Why did you join LCB?
I was looking for work and this role came up. I have always found further education an interesting environment and rewarding purpose.
What's your background?
My early roles were in 'business development project work', process design and central administrative support roles. The last ten years have led me into finance roles within hospitality, and education.
What experience or qualifications do you have that help you in your role?
I have worked in a variety of sectors such as energy, finance, local government, hospitality, and education. I have worked alongside and supported a variety of professional people and the general public. Experience of dealing with people in a fair and professional manner is really important in this role as you are constantly speaking with a diverse range of people from all sorts of backgrounds with very different needs and situations.
If you joined Leeds College of Building from another sector or industry, why did you decide to move into education?
The working environment and energy associated with education was and still is attractive to me.
What are the most rewarding aspects of your job?
Helping students in difficult financial/personal situations work out an affordable way to pay for and complete their qualifications and aspirations is a very rewarding aspect. Resolving queries for employers around apprenticeships and fee paying students and facilitating the income flow by getting payments into the college bank account also gives a feeling of reward.
What's your view of the working environment and facilities at Leeds College of Building?
I have never worked anywhere with such a high proportion of welcoming and supportive people. This is led from above and trickles throughout the structure. It's a rare environment. I like the professional but casual feeling of working at the college. Where diversity is embraced and made to feel welcome. Facilities could be improved but we rely heavily on government funding and have a responsibility to spend wisely.
What advice would you give to anyone considering working at Leeds College of Building?
If you want to work somewhere warm and supportive, that appreciate their staff and work towards something fulfilling, where work and home life balance is encouraged and supported, join LCB.