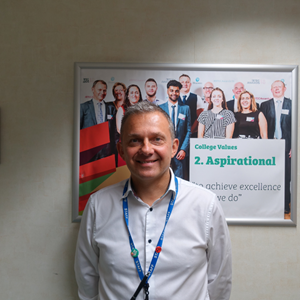 Steve Connell
Assistant Faculty Director
Steve is an Assistant Faculty Director. His main role being to support Curriculum Managers across all areas of Construction Crafts to ensure students achieve positive outcomes through effective teaching, learning and assessment.
We asked Steve a variety of questions about his role at LCB over the last 22 years.
Why did you join LCB?
When I was a student at the college, I enjoyed the environment and decided that I would like to work there. I made some enquiries and an opportunity presented itself to me. Initially I wanted to be able to train students and influence their careers in the same way that my tutor did with me, and it has proved to be a very rewarding career.
What's your background?
I was born and bred in Leeds and after finishing school I became an apprentice wall and floor tiler, attending Leeds College of Building on a block release programme. I worked in the tiling industry for 11 years before joining Leeds College of Building as a member of staff.
What experience or qualifications do you have that help you in your role?
Initially my tiling qualifications helped me secure my employment as a tiling tutor at the college. In addition to these and prior to me starting at the college, I enrolled on a CLAIT course and completed the 6000 Series. It was also very helpful that I had achieved my maths and English qualifications whilst I was at school.
Since I have worked at college, I have taken every opportunity to develop myself whenever the opportunity has arisen, and I have added various qualifications to my CV. These include a Cert – Ed, assessors awards, internal verifiers award, L5 certificate in lesson observations, safeguarding officer and most recently a L5 in Leadership & Management.
I have built up my experience of further education over the years and always tried to learn from the people around me and take on any advice and guidance that I have been given. I have worked for awarding bodies helping to write tiling qualifications and I have been an active member of the Training Committee for The Tile Association.
If you joined Leeds College of Building from another sector or industry, why did you decide to move into education?
Working as a tiler, I was used to working away from home and travelling all around the UK. After a few years I realised that I wanted to be at home more and to cut back on the number of weekends I was working. Gaining employment at LCB allowed me to do this and it gave me a much better work life balance than when I was working on site. I also looked at LCB as a new challenge because not only did I need to use all my tiling experience, but I also needed to learn the craft of teaching, and this is something that I really enjoyed.
Initially, my first thoughts were how different my job had become, working in a large college with lots of people was a culture shock but something I quickly realised I enjoyed. The whole package of very generous holidays, sick pay and a pension scheme were fantastic benefits of working at LCB and I have always been very grateful to have a job that comes with these benefits.
What is the most rewarding aspect of your job?
Without doubt seeing students achieve their goals, develop their skills, and leave the college in a position where they can obtain a job and be successful in life. I often bump into students who I have taught in the past and it is extremely rewarding to see them being successful and to have a chat and hear how well they are doing.
What's your view of the working environment and facilities at Leeds College of Building?
I am lucky in that my roles at LCB have allowed me to visit many colleges and I can honestly say the working environment and facilities at LCB are as good as anywhere I have visited. LCB has always been a very supportive college and the friendliness of the staff has been one of the factors why I have enjoyed my time as an employee at the college.
When I show visitors around from other colleges their initial reaction is always one of shock when they see the scale of the college, the size of the workshops and classrooms and the materials, tools, and equipment we have for teaching. Their second reaction is usually one of envy!
What advice would you give to anyone considering working at Leeds College of Building?
Understand the reasons why you want to work at LCB and try and understand the Further Education (FE) sector. Be willing to learn and take advice from others but always have confidence in your own ability. FE is forever changing and faces many challenges, but you always need to be prepared to change so you remain current and relevant in your role.