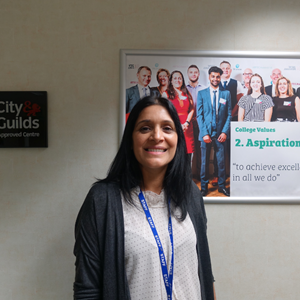 Yasmin Ali
Business Engagement Manager
Yasmin has been working with us since 2018 and is currently the manager of our Business Engagement team, mainly working on our externally funded projects to provide free (or part-funded) training to employers and learners across the Leeds City Region.
We asked Yasmin a variety of questions about her role and why she enjoys working at LCB.
What is the main purpose of your role?
I mainly work on externally funded projects at the college, where the college provides FREE, or part funded training to employers and learners across the Leeds City Region. My role involves actively promoting LCB provision to the business community, recruitment of learners, co-ordination of training courses and liaising with funding bodies and external partners to ensure that all training provided meets industry needs, as well as identifying gaps in provision, so the college can continue to design and deliver training that is in demand for the construction and built environment.
What's your background?
I have worked in FE since 2000 in a variety of teaching, training, project management and workforce development roles. I am also a fully qualified Careers and Guidance professional, as well as having a background in project management and business engagement. I have a varied background and have worked in a variety of educational settings including FE colleges, HE institutions, local government offices, Careers and Guidance companies as well as in Housing over the past 30 years. 
What experience or qualifications do you have that help you in your role?
I am a Graduate with a BA Hons Degree in Counselling & Psychology in Community Settings. I also have professional qualifications in teaching/training, advice and guidance, as well as project management and Business Administration.
If you joined Leeds College of Building from another sector or industry, why did you decide to move into education?
When I joined LCB I was previously working for Bradford Council in a Community Engagement/Ward Management role, and decided to come back to Further Education as I missed working with the business community and in an education setting, and in particular working on the skills agenda and helping employers with their workforce development and training needs.
What is the most rewarding aspect of your job?
The most rewarding part of my job is seeing projects from the initial stages through to completion, ensuring all targets for learners/businesses and funders have been met. I also work with a fantastic team of colleagues throughout the college, who make the role and my time at the college interesting and rewarding.
What's your view of the working environment and facilities at Leeds College of Building?
Leeds College of Building provides a warm and friendly working environment where plenty of support is available from management and individual teams to ensure that we all succeed and provide the best service possible for our learners and the business community we serve.
What advice would you give to anyone considering working at Leeds College of Building?
Apply and come and join us! It is one of the best working environments I have ever worked in.