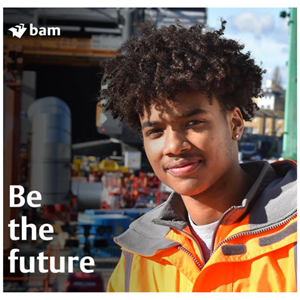 BAM
Award Winning Technical Apprenticeships in Construction and Engineering
For over three years, Leeds College of Building has worked in partnership with BAM to deliver Technical Apprenticeships in Construction and Civil Engineering. Today, BAM Construct and BAM Nuttall Apprentices attend Leeds College of Building on a tailored block release programme.
As one of the largest construction-services businesses globally, BAM offers diverse and exciting opportunities in industry. Each and every site placement is carefully planned, and staff are on-hand to provide support and guidance, helping students develop their career in the construction industry.    
During their time on site placements, Apprentices get the chance to work alongside experienced Engineers, Construction Managers, Quantity Surveyors and other specialists to develop the skills they need to become competent in their chosen field.
"Over time, Apprentices are given more and more responsibility on site placement once they have developed a good working relationship with their line manager."
Approximately 45 new Technical Apprentices join the BAM Apprenticeship Programme each year in Civil Engineering, Construction Management, and Quantity Surveying. BAM also recruit other specialists when projects require; IT, Digital Engineering, Business Admin, Document Control, and Craft/Trade Apprentices have all been trained in the past.
Retention numbers on the programme are high owing to exciting career progression. Past Apprentices have gone on to work on international projects in, for example, Antarctica and Canada. Other former Apprentices now work at Director level or in other senior roles at BAM.
"One of the main benefits of undertaking an Apprenticeship is the independence it teaches, allowing students to take charge of their own development. The more effort you put into learning and becoming an integral part of the project team, the quicker you can progress your career in the Construction Industry."

Gerry O'Rourke, Apprenticeship Manager at BAM Nuttall
Today, the College is a preferred provider. Timetabling for the academic year includes access to employer support and BAM guest speakers. Over the programme, visits are made to Apprentices in College and on site to make sure they are progressing with their studies and on track to achieve the best possible grades.
Excellent feedback from Apprentices is evidence of the outstanding partnership between Leeds College of Building and BAM. The team is keen to build upon this success, and ways in which Apprentices can remain in study at the College after they have completed their Level 4 HNC programme is being explored including a degree-level Apprenticeship.