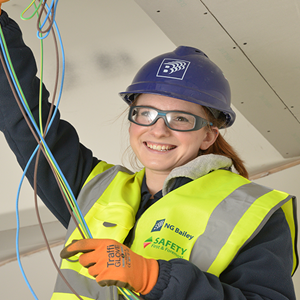 NG Bailey
Innovative Hub & Spoke Model
NG Bailey's commitment to training the next generation of construction workers dates all the way back to 1934 when their apprenticeship programme first began. Since that time, an incredible 5,700 apprentices have been employed in total.
Around ten years ago, NG Bailey started to work with Leeds College of Building, and the team developed an apprenticeship programme explicitly focussed on the construction engineering business.
Starting with a base of four core apprenticeships, the partnership now delivers over 20 with the College's support. Curriculum programme delivery is continuously evolving, adapting and changing to suit the needs of the business, especially over the last academic year.
NG Bailey works across a wide range of sectors from healthcare and hospitality through to rail and defence. Apprentices are usually site/project-based, which allows them the opportunity to gain a wide range of experience throughout their apprenticeship.
Typically, an NG Bailey apprentice will spend their 'on the job' time on site, working with the installation of electrical and mechanical services. However, some apprentices split their time between sites and offices and learn about all the different elements that deliver a successful project for clients.
"Our people have always been central to what we do at NG Bailey and our apprentices in particular are vitally important to both our work, and crucially, the future of our industry. As a result we have to ensure they receive the highest possible standard of training and start their careers on the front foot."

Frank Clayton, Head of Group Learning and Development at NG Bailey
The College works closely with Sash Hanratty, the NG Bailey Apprenticeship Development Partner, who oversees everything along the apprenticeship journey from recruitment and tutor liaison to personal development opportunities and graduation.
Today, the partnership enrols between 20 to 50 apprentices each year across all disciplines, dependent on the identification of any future skills gaps. The training from Leeds College of Building helps apprentices be technically competent, and through their own development, they acquire the personal skills to succeed in the workplace.
NG Bailey is a committed employer who recognises apprentices as part of their future workforce. They make a point of looking ahead when planning recruitment numbers to ensure there is a role at the end of each apprentice's training.
"The results have exceeded expectations and they now receive thousands of applications each year from young people who all want to join their Apprenticeship programme."
Many apprentices secure higher positions within the business, including project managers and supervisors, and some senior managers began their career as an NG Bailey apprentice.
As a result of COVID-19, the College has supported apprentices to continue their training virtually. By starting programmes mid-year, this established partnership is still going strong with encouraging recruitment figures set to continue.
If you are an employer and would like to find out more about the services we provide to employers please call the team on 0113 222 6023.