NG Bailey has been producing first-rate apprentices since the 1930s, and today the UK's leading independent engineering, IT and facilities services business receives up to 4,000 applications a year from school and college leavers who aspire to work for the company.
As a result NG Bailey currently invests over £3 million a year in training and development programmes and its apprenticeship scheme has become central to its operations. Many of the company's apprentices have gone on to have long and illustrious careers with NG Bailey, as well as across all other areas of the construction and engineering industries.
In 2012 NG Bailey appointed Leeds College of Building, following a rigorous selection process, to deliver its apprenticeship programme across a range of trades including heating and ventilation, electrical, building services engineering, quantity surveying, design and planning.
With NG Bailey's apprentices based at locations throughout the UK, an innovative 'hub & spoke' model was introduced. As part of this Leeds College of Building acts as the lead contractor and places apprentices into a carefully chosen network of colleges located throughout the country, that are able to deliver the programmes that meet the company needs/local branches. Leeds College of Building then carries out due-diligence checks on each college and regular quality assurance visits, as well as coordinating all the workplace training, including all those delivered through Leeds College of Building.
Currently NG Bailey has more than 150 apprentices on the programme and enjoys an excellent completion rate, with more than 99 per cent of participants successfully finishing their apprenticeships.
Our people have always been central to what we do at NG Bailey and our apprentices in particular are vitally important to both our work, and crucially, the future of our industry. As a result we have to ensure they receive the highest possible standard of training and start their careers on the front foot.

Frank Clayton, Head of Group Learning and Development at NG Bailey
NG Bailey previously had their own in-house training academy, but changes to both legislation and the way training is funded made out-sourcing a more preferable and cost-effective option.
Frank adds "After considering a number of options we chose Leeds College of Building because of their open-minded view to what we wanted to achieve and their strong focus on partnership – having a great relationship with our provider and a sense of shared goals is really important to us. They also had the experience and resources to effectively head up a 'hub & spoke' model of nine colleges across the UK that could all contribute to our Apprenticeship programme, which is no mean feat."
The results have exceeded expectations and they now receive thousands of applications each year from young people who all want to join their Apprenticeship programme.
Derek Whitehead, Deputy Principal from Leeds College of Building adds: "We are extremely proud of our work with NG Bailey which demonstrates how we can create completely bespoke solutions for clients and their training requirements, even when the Apprentices might be hundreds of miles away."
If you are an employer and would like to find out more about the services we provide to employers please call the team on 0113 222 6023.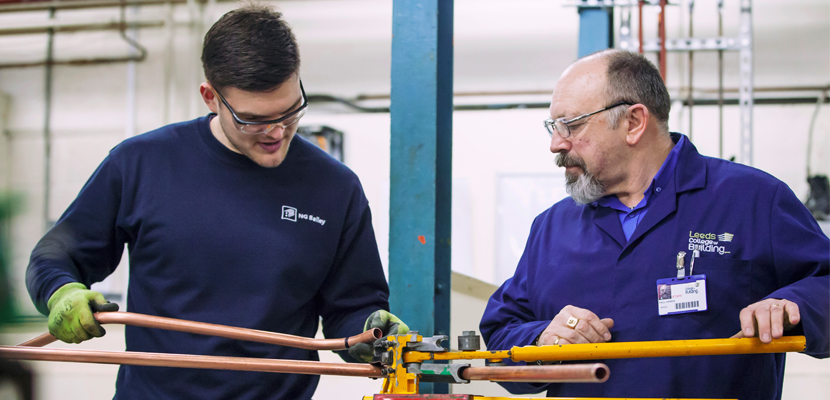 ---