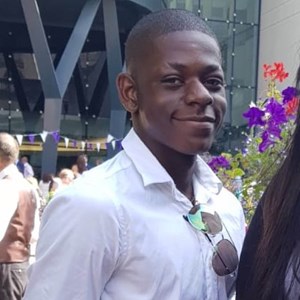 Ruben gets accepted to University of Leeds
Go Higher Case Study
The sky's the limit for a student supported by the Go Higher team at Leeds College of Building.
After successfully completing a Level 3 BTEC in Construction & the Built Environment (Civil Engineering), Ruben is now enrolled on a degree programme at the University of Leeds.
With support from the widening participation unit 'Go Higher West Yorkshire', Ruben used his BTEC to gain entrance to the Civil & Structural Engineering degree course.
Ruben said:
"Before my course at College, I started A levels. After the first year, I discovered that I was unable to apply for the Civil and Structural Engineering degree at university with my subjects. My uncle influenced me to take the BTEC route as he also studied at the College and graduated from the same course at the same university! "I'm glad I chose this route as it meant I was able to work alongside my uncle's employer which was linked to my course, and ultimately gave me the experience and knowledge which helped me complete some College units."
While at College, Ruben received support from Go Higher West Yorkshire, a consortium of HE providers across the region including those in Leeds, Bradford, and Wakefield. Working together, these institutions ensure that higher education is open to all who can benefit, regardless of background. The core aim of the partnership is to improve access to, success in, and progression from higher education, for those from under-represented groups in key postcode areas.
As a result, Ruben accessed employer talks, career events, motivational seminars, university support and application guidance sessions, a team-building and higher education activity day at Leeds Beckett University, and personal statement drop-in sessions.
Go Higher outreach officers also support UCAS application processes and offer guidance on drafting a personal statement to make it unique. Over the course of the application, personal statements are redrafted several times to improve quality.
Now, Ruben is beginning his MEng Civil & Structural Engineering degree, completing induction week, meeting tutorial groups, and attending academic briefings.
Ruben said:
"I feel very honoured and proud to be accepted at the University of Leeds as, throughout College, people told me their entry requirements and standards were quite high. My plans after university are to get a job within industry and become a Chartered Engineer."