---
Course at a glance
Subject Area:
Land & Civil Surveying
Attendance:
1 day per week (Fridays) for 20 weeks
Qualification:
Pearson BTEC certificate for the units achieved (one level 5 and one level 4) and a certificate of achievement awarded by Leeds College of Building
Course Start:
January 2022
---
Print this page
Apply today
Apply today
Course overview
The course is ideally suited to anyone working in a variety of technical roles who may have an interest in or requirement to carry out surveying related duties and wants to gain a qualification.
This is an excellent opportunity for learners who currently carry out surveying functions within their current job role, but who have no formal training.
It is also ideal for learners interested in a career change, engineering apprentices, technical assistants and school leavers with a strong interest in surveying as a career option.
Typical candidates will be those seeking to gain a recognised qualification in surveying to formalise their experience. In addition, applications will be considered from individuals with a strong interest in site surveying and engineering, but who may be currently employed in a different role.
---
Course content
The course begins with an introduction to the field of surveying and the continuous service it provides throughout the construction life cycle. It will introduce the practice and theory of surveying and its application in the workplace. The course typically models the workflow required to produce site control, collection, and modelling of data, and setting out functions. A continuous theme of the practical work concerns causes of error and mitigation techniques.
Surveying requires confident use of equipment from the physical and technological perspective and the course delivery is focused on practical surveying activity and instrument training.
The use of technology in surveying assists the surveyor's workflow greatly and its use is standard practice in all sectors of construction. Common applications of this technology are put into practice during the course using the key surveying tools – levels, total stations, GNSS and scanners, which will explore their on-board functionality. Underlying surveying principles and theory are also taught, and a significant period of time is dedicated to manual methods of observation, booking and manual calculation of coordinates.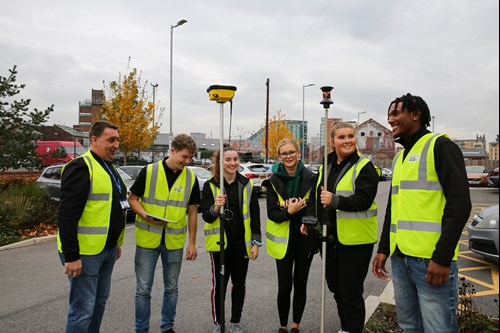 ---
What will you learn?
Students will be introduced to the common software packages currently in use and trained on specific aspects of workflow to achieve required outputs.
The main aspects covered are:
How to use surveying instruments with standard methods of practice
Traditional methods of observation and calculation
Modern instrument technology and settings
Applications of surveying in construction
Causes of error and mitigation techniques
Surveying deliverables
Additional learning outcomes are:
Introduction to AutoCad (modelling topographic data and volumes)
GNSS processing and transformations
Point cloud registration and uses of data
---
Entry requirements
Ideally, applicants should possess a minimum GCSE grade C in mathematics and English.
---
What can I do after this course?
Completing this course will give career opportunities in surveying of land, civil, rail, construction and mining sectors where there is a high demand for recruitment.
Possibilities for further education includes Geospatial Techniques, Utility Surveying and Graphical Information Systems (GIS) and degree level study.
The units taught are components of the BTEC HNC / HND program of study.
---
Further information
To apply, and for enquiries about this course, please email driby@lcb.ac.uk
Print this page
Apply today