Posted on 18 November 2021
Two talented students are representing Leeds College of Building at the final of SkillBuild 2021, the national multi-trade skills competition delivered by the Construction Industry Training Board (CITB).
Taking place over three days from 16 – 18 November at the National Construction College in Norfolk, SkillBuild is the largest competition in the UK for construction trainees and apprentices.
Leeds College of Building has two of the youngest finalists taking part in SkillBuild this year, both under 18. Almost 250 competitors participated in the qualifiers across a range of skill disciplines throughout the UK this summer. The 54 highest-achieving competitors from all over England, Scotland, and Wales were then selected for the SkillBuild 2021 national final.
Leeds College of Building student Aaron Brady (17) won his regional heat and is now competing against six peers in the Wall & Floor Tiling final. Aaron, from Seacroft, first came to the College to study a Level 1 Wall and Floor Tiling Diploma and progressed to an Apprentice with GH Tiling Domestic Commercial Specialist Limited.
Wall & Floor Tiling finalist, Aaron Brady, said:
"I'm really excited about being chosen for the SkillBuild show and can't wait to show what I can do. This will be useful when I'm trying to get work in the future that I can show to my future employers."
Zara Dupont (17) from Bramley is a full-time second-year student studying a Level 2 Extended Diploma in Plastering. After winning the regional final with ease, Zara is now battling against five competitors in the SkillBuild Plastering & Drywall category.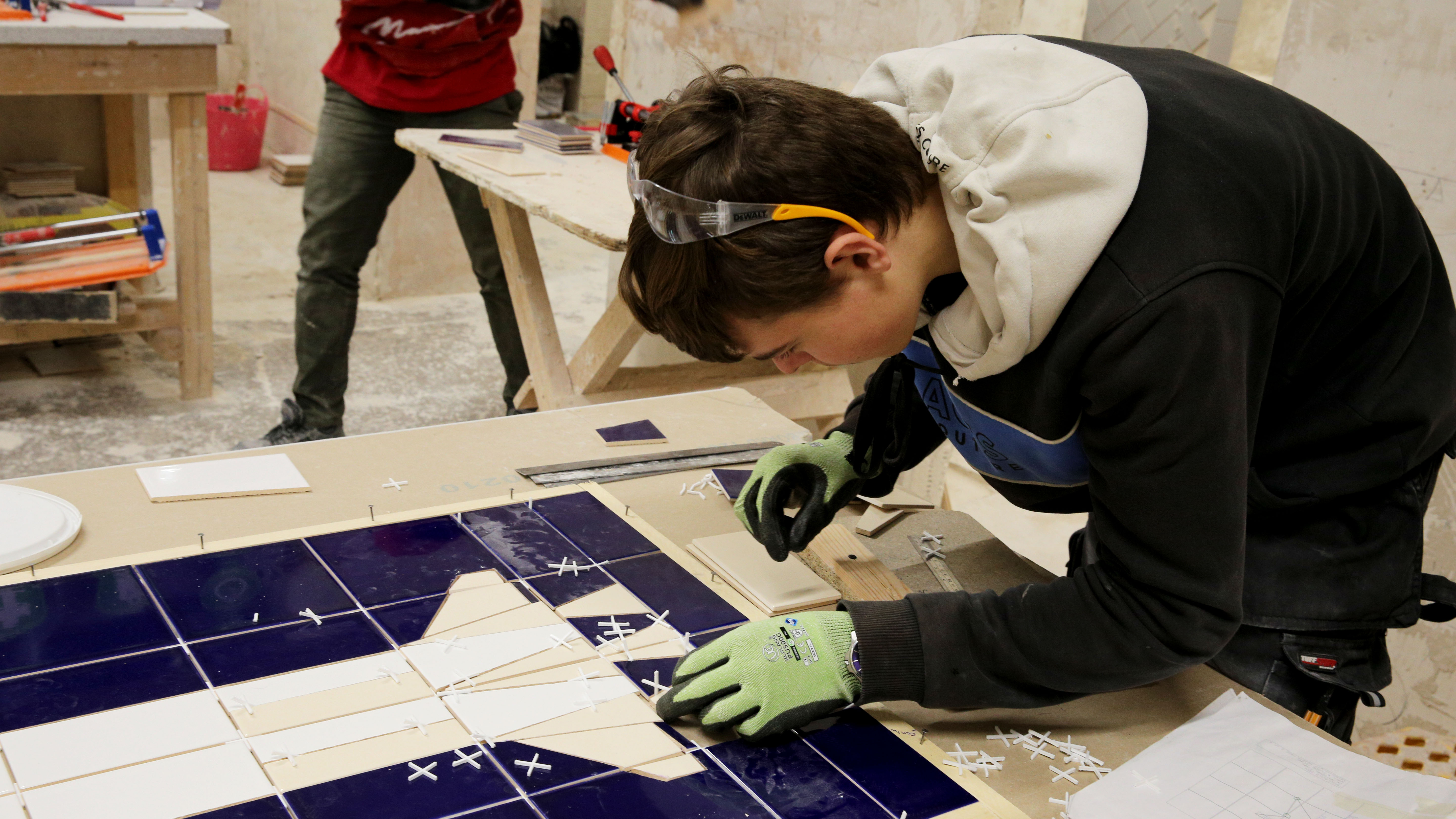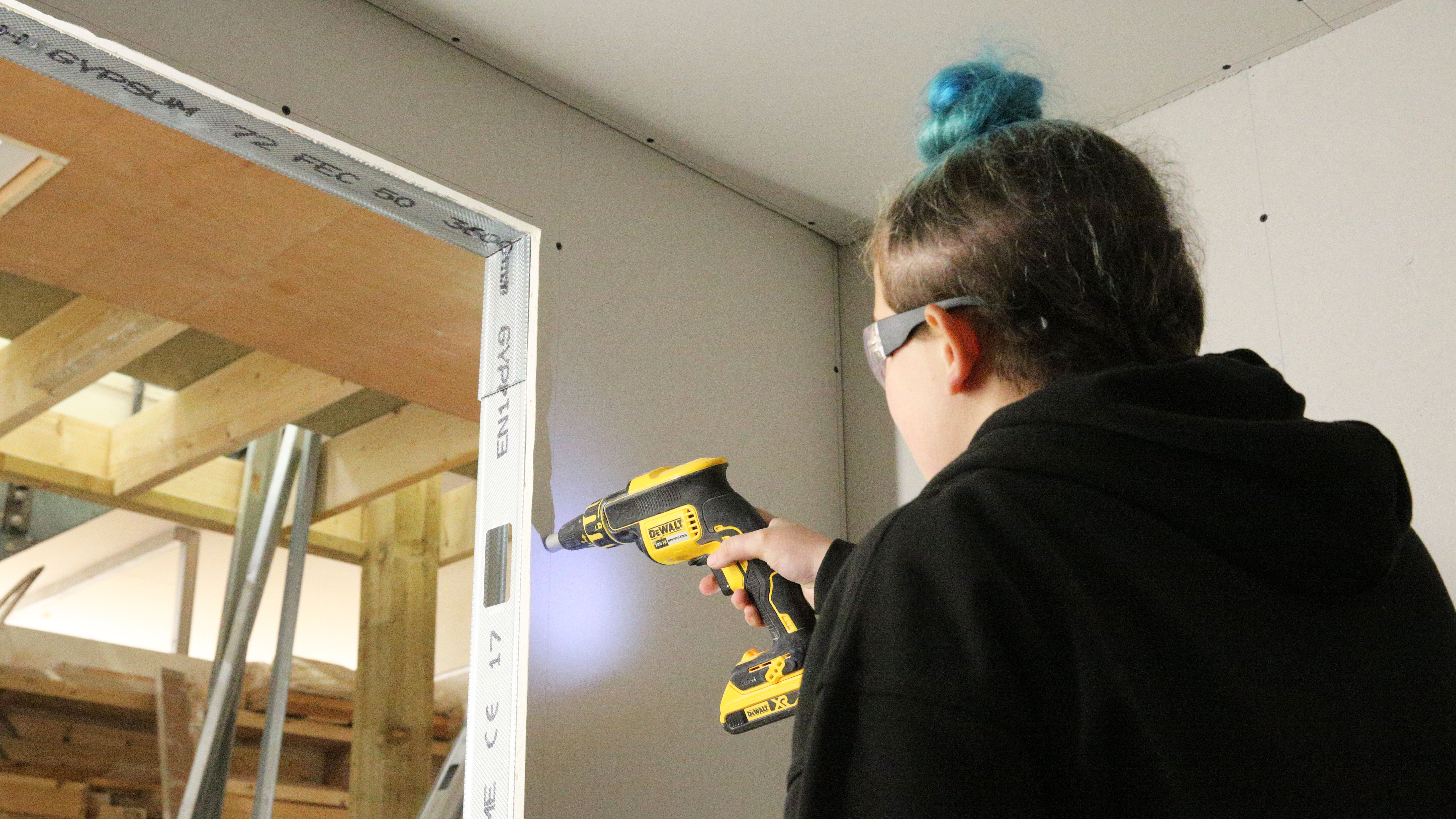 "This really is the essence of our jobs – seeing young people succeed with the right guidance. They are both such great role models in their curriculum areas, and their craftwork around the departments is already inspiring next year's cohort of students to replicate their achievements."

Paul Chandler, Leeds College of Building Curriculum Manager in the Faculty of Construction Crafts
The national finals test specialist technical abilities, time management, character, and commitment. Judges will deliberate for a week before bronze, silver, and gold medals are awarded for each construction trade skill at a virtual ceremony. Competition categories cover Bricklaying, Carpentry, Furniture & Cabinet Making, Joinery, Painting & Decorating, Plastering, Plastering & Drywall Systems, Stonemasonry, and Wall & Floor Tiling.
"This is a real testament to the work that they have been doing, and we foresee a bright future ahead for them. The College has a great track record at the competition, and we're hopeful we can show the UK what we're capable of achieving again!"

Mark Sims, Leeds College of Building Lecturer and Competition Coordinator
Next year, SkillBuild 2022 will see a return to a face-to-face event with thousands of spectators, hands-on activities, and the potential for winners to progress to international competitions via WorldSkills.
---