Leeds College of Building is celebrating after successfully hosting the only Yorkshire 2022 SkillBuild Regional Qualifying Heats and having eight students win a place.
SkillBuild is the largest and longest-running multi-trade skills competition in the UK for construction trainees and apprentices. Delivered by the Construction Industry Training Board (CITB), SkillBuild forms part of WorldSkills UK and is often dubbed the 'skills Olympics' for some of the most in-demand construction trades.
The competition showcases some of the region's most talented learners and apprentices. The event was held at both Leeds College of Building campuses and attended by 83 competitors representing around six regional education providers.
In total, eight disciplines were covered with three Leeds College of Building learners competing in each heat: Bricklaying, Carpentry, Joinery, Painting & Decorating, Plastering, Plastering & Drywall systems, Wall & Floor Tiling, and Roof Slating & Tiling.
Leeds College of Building student James Quinn-Thompson achieved 1st place in Site Joinery, with 2nd place going to fellow student Jake Smallbones. Wall and Floor Tiling saw Aaron Brady gain 1st place with Jak Gale winning 3rd. First place was also won by Leeds College of Building student Zara Dupont in Drylining, with Daniel Fairclough coming 3rd. A 3rd place was also taken by Leeds College of Building students Newton Robinson in Plastering and Sophie Bennett in Painting and Decorating.

Students now wait for the completion of all UK regional heats before finding out if scores are high enough to qualify for the second stage in the competition - the 2022 SkillBuild UK National Competition Final. This will be held at six venues, including Edinburgh College, from Monday 14 November.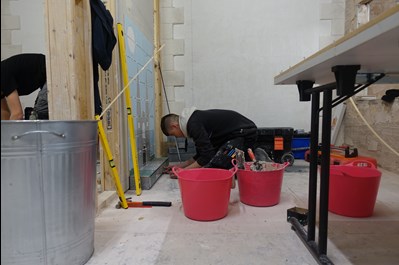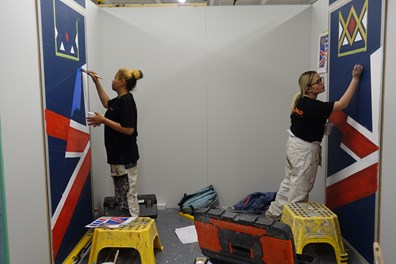 Mark Sims, Leeds College of Building Lecturer and Competition Coordinator, said:
"I would like to congratulate all our students who represented the College so impressively. We are very proud of everyone who participated in this gruelling competition showcasing the best talent in the UK.
"I would also like to thank staff who took time out to train learners, giving us the best opportunity to secure the places we did on the day. Also, to all the staff and managers who got stuck in on the morning, coming together as a team; the day clearly wouldn't have been able to go ahead and be such a success. Thank you so much for all your hard work, commitment, time, and dedication to make this happen behind the scenes and beyond."
WorldSkills UK Deputy CEO Ben Blackledge said:
"Taking part in a WorldSkills UK competition can be a life-changing experience. […] WorldSkills UK's competition-based development programmes offer students and apprentices the chance to pit their skills against the best of the best in the UK and potentially on the international stage at Lyon in the 2024 WorldSkills global competition."
Jackie Ducker, CITB Executive Director – Customer & Product, said:
"The Regional Qualifiers […] provide a platform for the best of the best in construction technical education, which is an extremely beneficial experience, helping these young people to grow both personally and professionally. We feel it's hugely important that we nurture the talent coming through the heats to ensure that regardless of their placing, they come away feeling confident and inspired to continue a career in construction."
Leeds College of Building was established in 1960 and is the only specialist general further education construction college in the UK. The College teaches around 5,500 students and is currently recruiting to a comprehensive range of courses related to construction and the built environment commencing in September 2022. In total, the College trains nearly 2,800 Apprentices across all areas of the College's provision.
---