Posted on 06 December 2021
A Leeds College of Building lecturer has been named Mentor of the Year by professional painting-tools specialists, Purdy.

John Stevenson, a Painting & Decorating lecturer, won the inaugural Purdy Mentor of the Year competition after being nominated by several of his students.

John was one of seven nominees shortlisted from over 30 entrants, progressing to a second stage informal interview, before scooping the title at a special awards ceremony held at The National Painting & Decorating Show at Coventry Building Society Arena.

Launched in July, the new competition aims to recognise those who are inspiring the next generation of professional painters and decorators. The Mentor of the Year competition gives painting and decorating apprentices and trainees the chance to recognise those who inspire them. 

Nominations were open to anyone that instils their passion and skills into the people that they train, from those running their own business or managing and training decorators in larger firms to tutors at decorating colleges.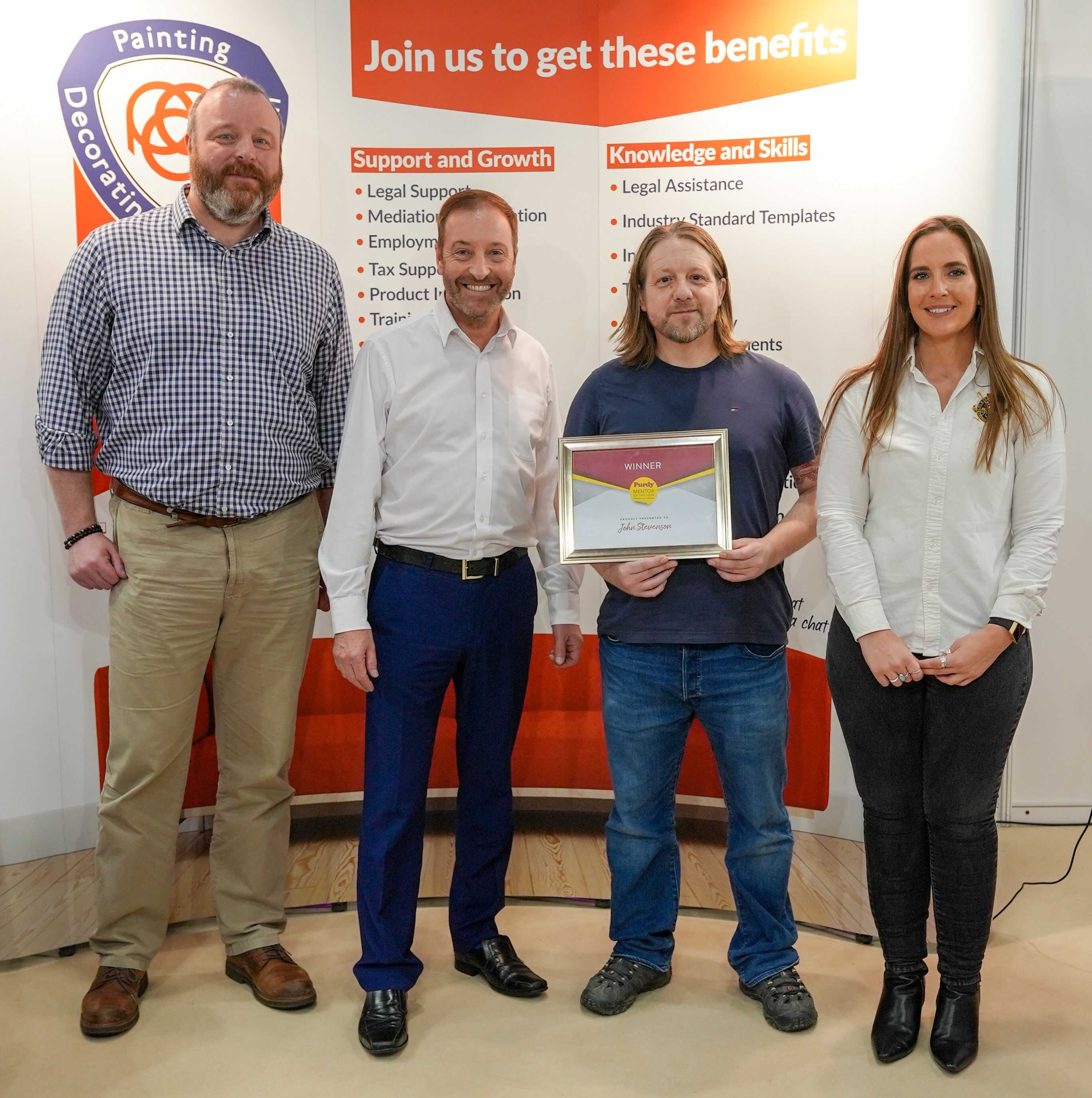 Mark Howroyd, Curriculum Manager of Painting & Decorating and Plastering at Leeds College of Building, said:
"The whole department is thrilled at John receiving this prestigious award. It is a testament to his years of dedication to his lecturing role. Several of John's students chose to nominate him for the award, explaining how he had inspired them in their chosen careers.
"It is more vital than ever that the construction industry has a pipeline of talent to fill crucial skills gaps. Lecturers like John are making that difference, ensuring that the next generation of painting and decorating specialists have a thirst for learning and are making a real impact in the sector when they leave the College."
John was awarded with £2,000 and a framed certificate from Purdy presented by Neil Ogilvie, CEO of the Painting and Decorating Association. One of John's student nominators, Reece Dudley, also won a new Purdy backpack filled with Purdy products. Two runners up won £500 each with a range of Purdy goodies for their nominators.
Lecturer John Stevenson said:
"As lecturers, we shouldn't underestimate the importance of the role that we play in our students' lives. We have the opportunity to inspire the next generation of construction workers and be a positive role model on their chosen career path.
"To be nominated for this award by my students means everything to me, and winning it is a special moment in my career.  That being said, when students arrive at Leeds College of Building, they are told that they will be taught by the entire Painting & Decorating department and not just their lead tutor. A lot of the credit for the success of our students goes to the entire team and, most importantly, the student themselves."
"I nominated John because he is a one-of-a-kind mentor. He was always the one I went to for help when he was available. He would give up his personal time to assist, whether it be on his lunch break, before, or after college."

John's student nominator, Reece Dudley
Reece continues by saying
"In my final year at Leeds College of Building, I found out John was going to be my tutor. He always had a variety of ways to explain or show you something, and went in-depth to clarify whatever we might be struggling with, and his humour and delivery was always 10 out of 10. John deserves this award 1,000 per cent in my eyes - he really did make my time at college enjoyable."

Entries were judged by Phil Warwick (Construction Industry Training Board (CITB) Advisor), Neil Ogilvie, (PDA CEO), and Andy Cummins (Senior Product Manager at Purdy). Judging was marked against the skills and ways of working a mentor is instilling, how they inspire mentees to be the best they can be, and professional and personal results from their mentorship.

Andy Cummins from Purdy said:

"We have absolutely loved reading all of the entries to this year's Purdy Mentor of the Year competition – it is fantastic to see just how many people have instilled their skills and knowledge in the next generation of professional painters and decorators. We would like to say a huge congratulations to John Stevenson, Samantha Murphy and Mark Mitchell and thank them for their commitment to our industry."
 Neil Ogilvie, PDA CEO, said:
"John's achievement in becoming the Purdy Mentor of the Year was highlighted to the panel of judges by his sincere and dedicated passion, not only to the painting and decorating trade, but to the immense contribution, effort, and commitment he has shown over many years in nurturing a new generation of talented trades people.

"With his captivating mentoring skills being second-to-none, he has encouraged and recognised the professional skills these young people have now brought to the forefront of their careers. The decision made by the panel to select John for this award was simply unanimous."
---