Posted on 10 November 2022
Two painting and decorating apprentices from Yorkshire have been presented with awards by the UK's largest trade body for the painting and decorating sector.
Harry Davies from Bradford and Calib Dyson from Leeds both took part in the Apprentice Paperhanger of the Year 2022, hosted by the Painting and Decorating Association (PDA).
Harry, 19, a student at Leeds College of Building and employed at LDC Decorating Contractors in Halifax, was presented with the Junior runner-up prize at an awards ceremony held at the annual PDA Gala Dinner this month.
Calib, 18, from Rawdon near Leeds, completed his apprenticeship at Leeds College of Building in June and was recognised for his work ethic and dedication with a CEO Achievement and Recognition Award.
As the UK's largest trade association for the painting and decorating sector, the PDA hosts two annual competitions for apprentices, inviting young people to showcase their skills across a series of competition events each spring.
The Apprentice Paperhanger of the Year contest requires participants to complete a specific wallpaper task designed to test their precision, skill and eye for detail over six hours.
Harry said: "It's amazing to be Junior runner-up. There were a lot of really good people at the competition, so it was great that I got through – I was really proud of myself.
"It's very challenging, but once you get going you just get into it and crack on.
"I'd definitely encourage other apprentices to take part. It's good to get some recognition and it gives your confidence a boost because you can see you're actually good at doing this."

Calib returned to the competition this year, after first taking part in 2021. Now self-employed as a sub-contractor, Calib said: "The competitions are a really valuable experience. Last year I panicked, I was looking at other people's work and comparing it to mine.
"This year, I just focused on my own work and made sure I did my best without letting the time pressure get to me.
"I'm really delighted to have been recognised by the PDA and I'm grateful to Anthony Wade at Sprayform Painting and Decorating, who encouraged me to enter the competition in the first place."
The competition was judged by PDA Chief Executive Neil Ogilvie and Melanie Adams, Head of Wallpaper at competition sponsor Brewers Decorator Centres.
The awards were presented by Neil Ogilvie and David Hope, National Sales Development Manager at Brewers Decorator Centres at the annual PDA Gala Dinner this month.
Neil said: "Hanging wallpaper is a specific skill and the tasks set as part of the Apprentice Paperhanger of the Year are deliberately challenging.
"Harry and Calib showed a real commitment to the craft and the level of their hard work and skill is reflected in these awards.
"I was delighted to offer my congratulations to them both in person at the Gala Dinner.
"The competition is sponsored by Brewers Decorator Centres and it is their generous and continued support that allows us to host this vital opportunity for people entering the industry."
Rebecca Mackinnon from Stornoway was Senior Apprentice Paperhanger of the Year with Cameron Bonthron, from Canterbury as runner-up. Jade Oakes from Cheshire won the Junior category.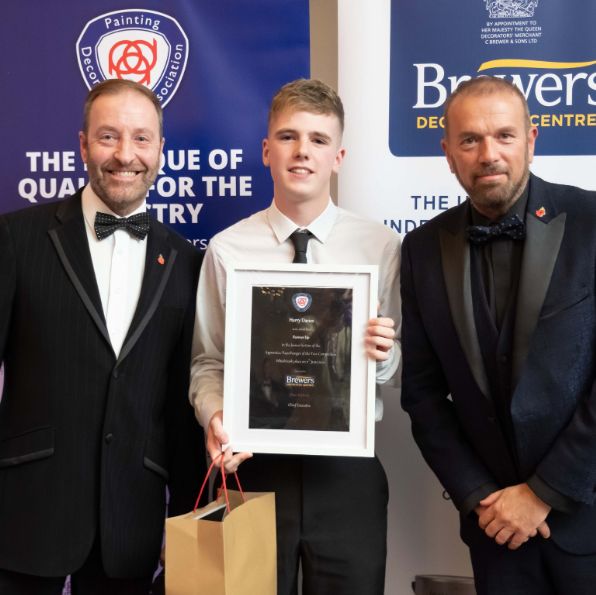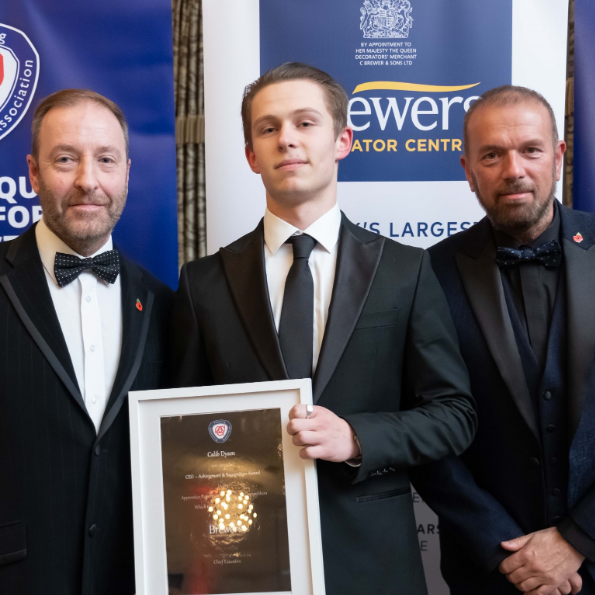 To find a PDA member near you visit: www.paintingdecoratingassociation.co.uk
---