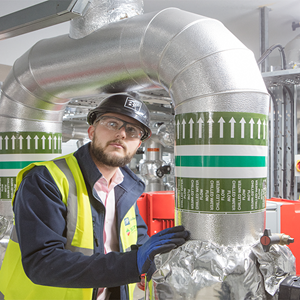 Heating & Ventilation
Find out more about becoming a Heating & Ventilation Engineer
Heating & ventilation engineers design, install and commission large heating and air conditioning systems in buildings including offices, hospitals, schools, shopping centres and leisure complexes in order to provide a comfortable environment for those who use the buildings. 
We hope you enjoyed listening to Paul talk about a career as a Heating & Ventilation Engineer. 
You can find out more about the courses we offer by clicking on the links below, to submit an enquiry please click on the green button. 
Recommended Courses
Apprenticeship
Adult Courses