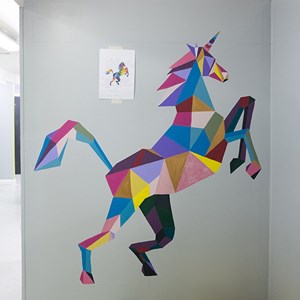 Painting & Decorating
Find out more about becoming a Painter & Decorator
Painters & Decorators use a wide range of paints, varnishes, wallpapers and other coverings to protect and enhance indoor and outdoor surfaces. They can work on domestic houses, commercial properties, hospitals and schools, large structures like bridges and heritage sites. Hours of work vary, typically Monday to Friday with  overtime at weekends and possibly overnight when working on commercial jobs.
We hope you enjoyed listening to Mark talk about the various courses we offer that could lead to a career as a Painter & Decorator. 
You can find out more about the courses we offer by clicking on the links below, to submit an enquiry please click on the green button. 
Recommended Courses
School Leaver / Study Programme
Adult Courses
Apprenticeship
Our new Painting & Decorating facilities include over 30 painting and spraying bays and 20 wallpapering bays (all 3m x 2m), designed specifically for new teaching standards.
Read about our Painting & Decorating department:
Former Students start their own Painting & Decorating companies
Platinum Painters - We decided to redecorate our house when we realised we enjoyed it a lot and we spoke more about doing it for a career.
Lloyd Bentley Decorating - I sacrificed all my weekends to work for family and friends on the side so that I could progress and hone my skills.