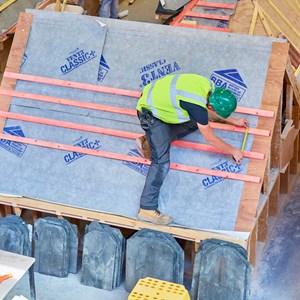 Roof Slating & Tiling
Find out more about becoming a roofer
Roofers build, maintain and repair roofs on properties such as residential houses, commercial buildings, sports stadiums and industrial units. They work mainly on flat or pitched (sloped) roofs, using many different roofing materials including tiles, slates, felt and corrugated sheeting. Hours of work vary, typically Monday to Friday but this can vary depending on the time of year. 
We hope you enjoyed listening to Chris talk about a career as a Roofer.  
You can find out more about the apprenticeship by clicking on the link below, to submit an enquiry please click on the green button. 
Recommended Courses
Apprenticeship
Read about our Roofing department: