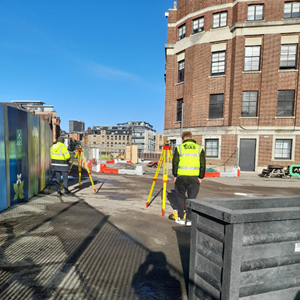 New Surveying course underway at Leeds College of Building
Find out about our new Methods of Land & Civil Surveying course.
Our new bespoke surveying course is off to a good start with students from the construction and mining sectors.
Following delivery of theory on national datum and traditional levelling methods, the instruments are checked for collimation error ready to transfer ODN height from a Benchmark on the old Tetley brewery office – a 1930s art deco building. The Benchmark is a low order cut mark last verified in 1991. Later in the course we will collect static GPS observations to see how the value checks against OSGM15.
In the next few weeks, we will be using traditional and digital levelling methods to establish the station heights of our control network around our Hunslet campus.
If you'd like to find out more about our Methods of Land & Civil Surveying course, full details are here.
If you're interested in gaining a BTEC level 5 certificate in Surveying, please email David Riby at driby@lcb.ac.uk