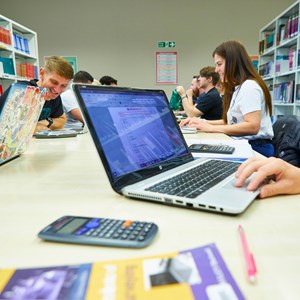 You don't need to go to university to study higher education
Find a suitable higher education course at LCB
Whether you're finishing sixth form or college this year, returning to further your career or you are an employer considering the options for your employees, you can find a suitable higher education course at Leeds College of Building.
Courses focus on careers in the Construction & Built Environment sector, which covers roles such as civil engineers, quantity surveyors, site managers, building services engineers, architects and project managers.
The benefits
Low fees - our courses are affordable, offering the opportunity for a student loan with fees that are considerably lower than other universities.
Staying local - you might be able to benefit from additional cost savings by staying closer to home, by staying with family or friends, and more affordable travel expenses.
Employability - leading employers help develop our courses, so they reflect the latest industry standards, making students more employable.
Supportive - our classes are smaller, so you benefit from a highly focused, personalised approach to teaching. We're dedicated to helping students achieve their goals, and we're always on hand to offer support as and when you need it.
Expert advice - students learn from the best of the best - industry experts who have their finger on the pulse and the skills to take each student further.
Employer links - we have strong, unparalleled links with employers, working with many regional and national construction companies and design consultancies year after year.
Award winning - students, staff and the College win lots of awards, which is a reflection on the quality of the teaching and the calibre of students that study with us!
Varied qualifications – if you don't want to take on a 3 year degree, you can study in stages with more flexible qualifications such as a HND or HND, which are the equivalent to the first and second years of a degree. You can then progress to a top up degree or higher or degree apprenticeship.
Jargon buster
Sometimes the terminology used in higher education can be a little confusing, so we have listed below some of the key terms used:
Higher education - a qualification studied after level 3 (A level / BTEC level 3)
Higher apprenticeship - combines college study with workplace learning. They offer a different route into professions which are traditionally filled by graduates. A level 4 and level 5 qualification can take up to 3 years to complete.
Degree apprenticeship – same as a higher apprenticeship but at level 6, equivalent to a degree, and can take up to 5 years to complete.
Higher National Certificate (HNC) – this is a level 4 qualification, takes up to 1.5 years to complete, usually focused on the skills needed in a specific career, for example civil engineering.
Higher National Diploma (HND) – this is a level 5 qualification, takes up to 2 years to complete, similar to a HNC.
Bachelor's degree – this is a level 6 qualification, takes between 3 and 4 years to complete, often includes a 1 year work placement.
Part-time study - students who are usually in full-time work, and spend less time in higher education than those in full-time learning.
Enrolment - enrolment is the formal process of a student starting at a university.
Entry requirements - these are the required grades or qualifications a student needs to gain entrance to a course and they vary depending on the level applying for.
The courses
You can browse the courses we have available on the College website, to find out more about higher apprenticeships click here and for HNC and HND courses click here.