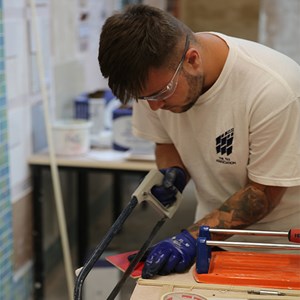 Wall & Floor Tiling
Find out more about becoming a Wall & Floor tiler
Wall & Floor tilers fix tiles on the walls and lay tiles on the floors of buildings including hospitals, shopping centres, swimming pools, industrial premises or bathrooms & kitchens. Tilers usually work with ceramic or porcelain and natural products including marble, granite, slate and terracotta. They also follow plans drawn up by an architect, builder or designer. 
We hope you enjoyed listening to Craig talk about the course options available in Wall & Floor Tiling.  
You can find out more about the courses we offer by clicking on the links below, to submit an enquiry please click on the green button. 
Recommended Courses
School Leaver
Study Programme
Adult Courses
Apprenticeship