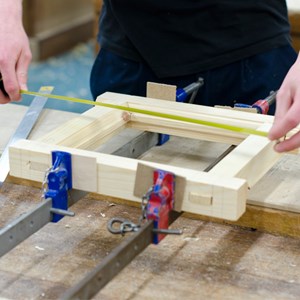 Carpentry & Joinery
Find out more about becoming a Carpenter or Joiner
Timber is an important part of any structure, and carpenters and joiners work together to prepare the wooden parts of a building such as floorboards, joists, roof trusses and window frames and then put them in place. Usually, a joiner will work from plans to prepare the materials; the carpenter then puts them in position. Hours of work vary, typically are Monday to Friday with overtime at weekends. 
We hope you enjoyed listening to the team talk about a career as a Bench Joiner, Carpenter & Joiner or a Wood Machinist.  
You can find out more about the courses we offer by clicking on the links below, to submit an enquiry please click on the green button. 
Recommended Courses
School Leaver / Study Programme
Apprenticeship
Adult Courses