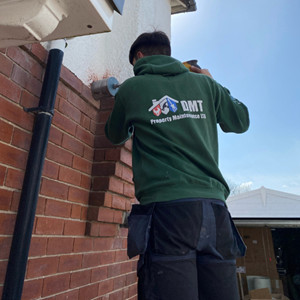 DMT Property Maintenance Ltd
Danny's LCB journey
Danny Thomas came to Leeds College of Building when he was 16 and enrolled on the Bench Joinery Apprenticeship Level 3 programme.
After finishing, Danny wanted to get stuck straight into work and so decided to start his own joinery company based in Rothwell.
For the last 10 years, Danny has built up DMT Property Maintenance Ltd, taking on all aspects of joinery. Projects include kitchen and bathroom fitting to full house refurbishment, overseeing certified gas, electrical, plumbing, and tiling work. 
"Training at the College will help to expand our services to customers, keep everything in-house, and help jobs run more smoothly."
The business has gone from strength to strength, becoming a limited company in 2020. With help from a government grant last year and to keep up with demand, Danny took on two Leeds College of Building apprentices – Joel and Brad – who are helping to expand their offer.
The business can now split assignments between two teams, from complete refits to laying floor, decking, and summerhouses. The apprentices work alongside Danny and another long-term employee and former College apprentice, Richard.
"I started as a student getting trained by Paul. Now, he's helped me to recruit apprentices of my own. It's great to still be connected to the College."
Danny hopes DMT Property Maintenance Ltd will be able to take on another Leeds College of Building joiner later this year to help his business grow further.
Our Level 2 and Level 3 Apprenticeship in Bench Joinery is available to anyone aged over 16.